Heritage Steam Railway Carriage Roof
Mid-Hants Railway, Watercress Line, Ropley, Hampshire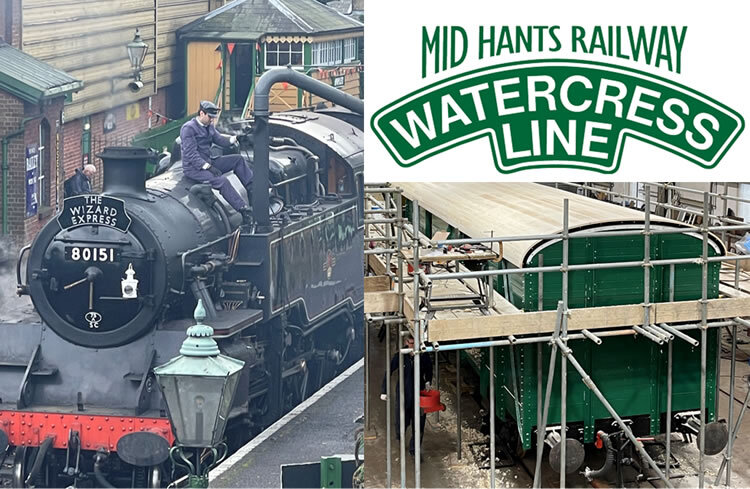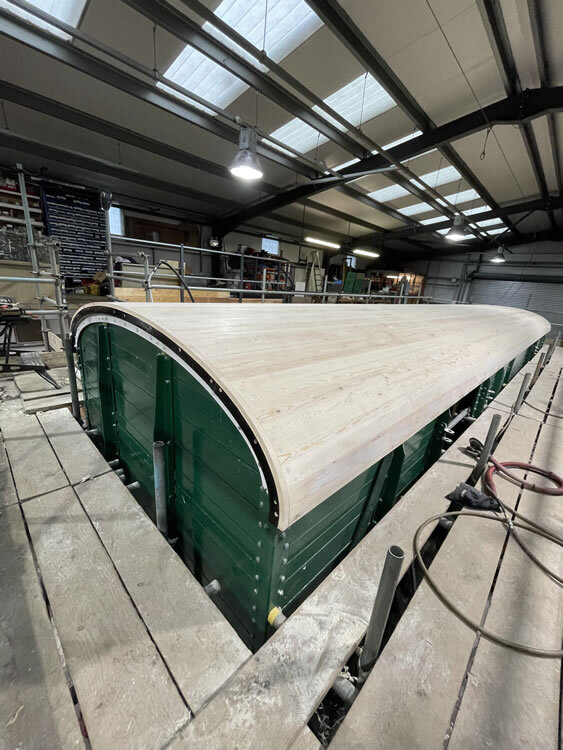 The Client
We were approached by the railway to see if we could find a solution to extend the working life of the timber roofs on their heritage railway carriages.
Traditionally the carriage roofs are made from close-fitting timber boards, which when in place on the roof are covered in a layer of putty. Then a heavy canvas sheet is stretched tight over the whole roof and the putty. After the canvas has been secured tightly all around it is then painted.
The problem is that the previous system can have a relatively short working life, occasionally lasting for a little over 5 years and is subject to the canvas easily tearing when in contact with low branches and the surface becoming brittle with age.
Our involvement would be only part of the full restoration works that had been carried out on the carriage.
If we were able to find a solution to this the client also wanted us to also train their personnel in the application of the system to enable them to carry our future work themselves together with ongoing technical support from ourselves.
---
Challenges
The new find new system was to incorporate or embraced the traditional methods previously used on these carriages.
The new system had to be:
Totally watertight.
As flexible as possible.
Long-lasting.
To have high tear resistance.
To train the workshop personnel on how to apply the system themselves.
An added problem for us was that the new canvas would have a double row of stitching through the canvas, top centre of the roof which would have to be sealed.
Fortunately, we have a good reputation for finding solutions to unusual and challenging projects.
---
Solution
We developed a specification and technical design for a completely new concept for this project by using solvent-free resins to create a really tough yet fully flexible system.
A clear solvent-free epoxy primer coat would be applied directly to the timber.
Any remaining holes, cavities or countersunk screw holes were to be filled with a specialised thickened version of the primer coat.
The canvas would then be applied and fully encapsulated in layers of a special flexible version of an epoxy coating material.
The finished result would be seamless and very tough indeed.
It would be completely watertight and still remain flexible.
Repairs, should they ever be required, can easily be made to the roof.
The colour of the roof coating resin was bespoke and specially made for the Water Cress Line.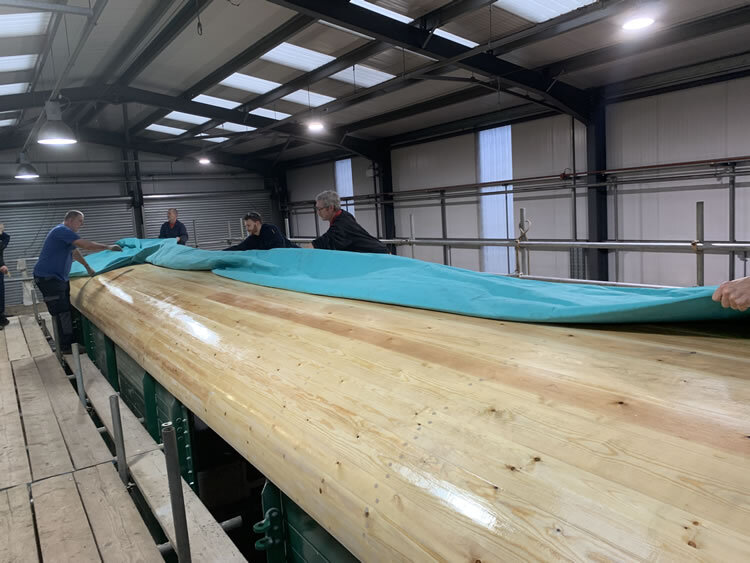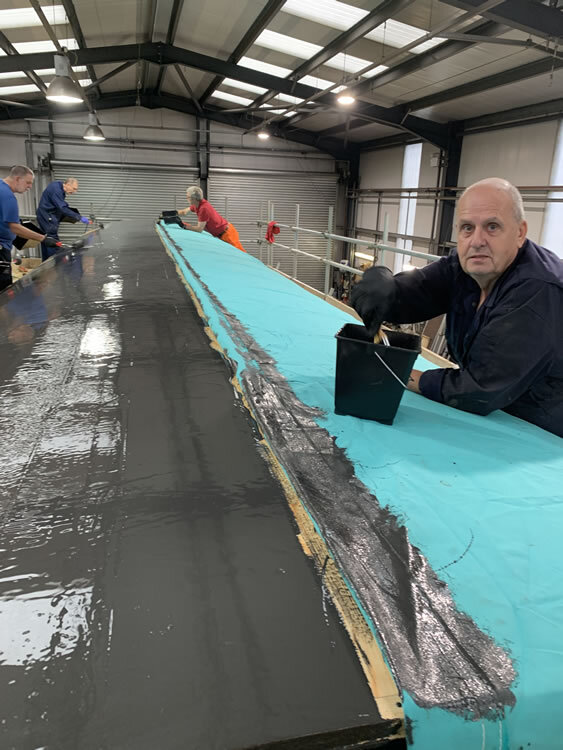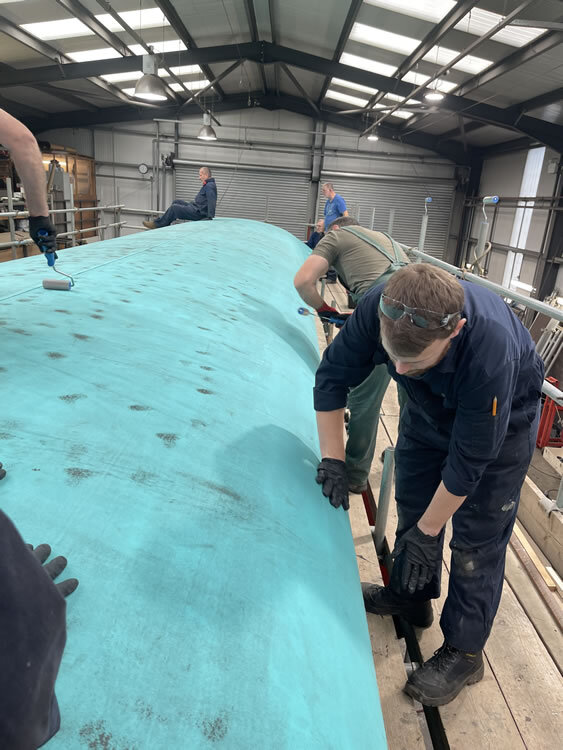 ---
The Results
Combining traditional canvas roof covering incorporating new methods and highly specialised and flexible materials this carriage roof will outlast previous methods many times over.
We managed to create a seamless and totally watertight surface, which will remain flexible with the expected movement of the carriage in use for many years to come.
The roof will now have a far higher tear resistance factor against accidental damage such as brushing against tree branches or other similar mechanical damage etc.
Everything from our side was completed within the three days anticipated for the work.
Practical training was given to the staff and personnel of the Water Cress Line carriage shop who carried out the application together with us with the aim of enabling them to carry out their own works on other timber carriage roofs in the future together with technical support from ourselves as and when it is needed.
Other surface finishes for the roof were also available should they have been required.
We believe this is possibly a world first using this method and will certainly outlast previous methods used.
Specialist Coatings (GB) Ltd developed the specification and technical design for this new concept.
Thank you to the Watercress Line carriage workshop team who made this possible.
Full credit must also be given to the exceptionally fine joinery work that was carried out on the roof prior to our arrival at Ropley.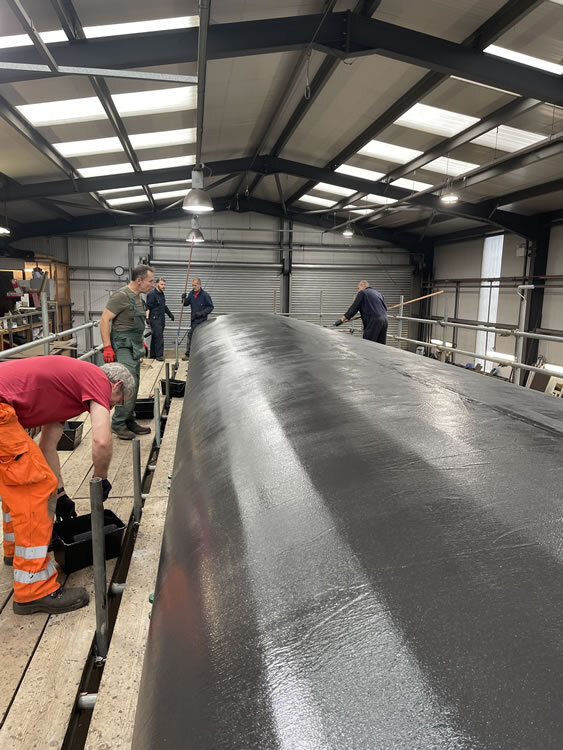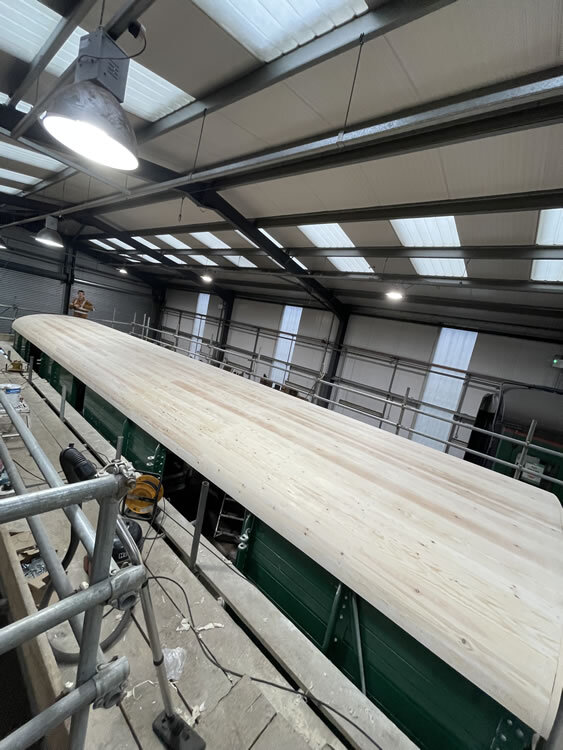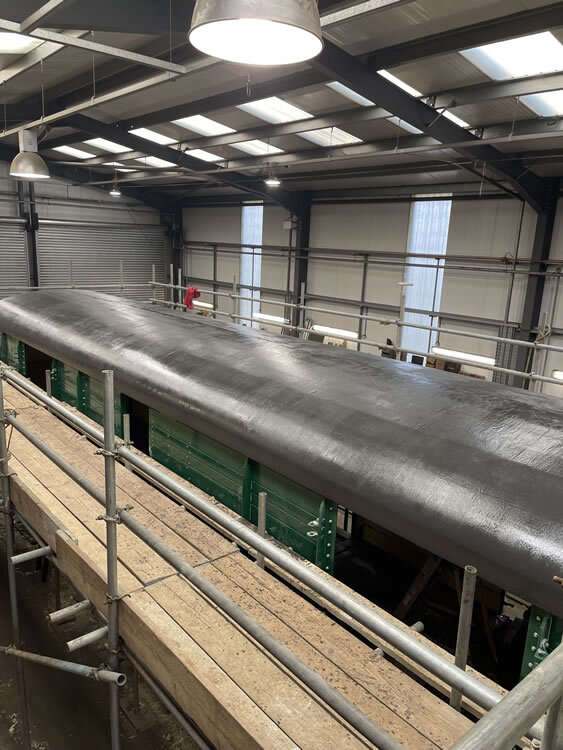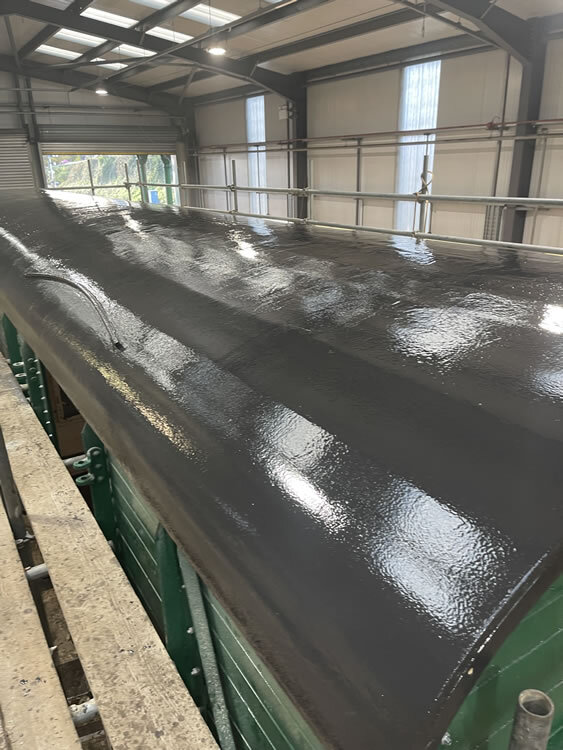 If required colours can be specially created for individual jobs or applications.
Rotting & Friable Timber
It may be worth noting that we have also developed a special resin system for use in the strengthening and restoring of rotting and friable timber.
Link to a slideshow of the processes: Click here.
Link to a short video of the finished roof: Click here.
For more information about the Watercress Line Steam Railway: Click here.
Technical design, specification and training by Specialist Coatings (GB) Ltd. www.scgb.uk.