Bluestar Fibres: Aggressive Chemical Tank Lining
Bluestar Fibres, a chemical company based in Grimsby, is an existing customer of Specialist Coatings.
The Client
The company instructed us to reline a carbon steel hot demineralised water tank.
---
Challenges
This project required an advanced resin tank lining system to withstand the aggressive atmosphere of a hot demineralised water storage tank.
The tank's existing vulcanised rubber lining had utterly broken down.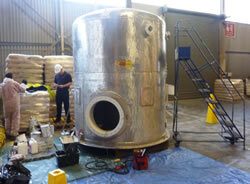 ---
Solution
Due to the aggressive environment created by demineralised water, we recommended using a glass flake reinforced vinyl ester tank lining system. It would be easy to maintain and offer high performance against aggressive conditions.
Should it be required, this system would be suitable for use as a general hot water tank or a steam condensate return tank. To save the client's costs, we suggested they employ a local company to remove the old lining and grit blast the internal surfaces of the tank to our specification, prior to our arrival on the site. Once this had been done, we applied the new tank lining system using an airless spray. We used a multi-coat system and, after sufficient hardening, we tested it for dry film thickness and the absence of micro-porosity.
---
The Results
We spent five working days onsite reconditioning this tank, which was brought back into complete working order 48 hours after our installation.