Diosynth: Waste Chemical Effluent Tank Lining
Diosynth (Akzo Nobel) had relined a concrete waste chemical collection sump some years ago but the lining had severely failed.
The Client
The sump is used for the collection of waste chemicals, including solvents, Hcl and caustic with a range of 0 to 15pH. We were instructed to refurbish the concrete and brick tank (sump) with a suitable chemical-resistant lining to extend its operational use.
---
Challenges
The sump was divided into two chambers.
The original internal lining had been almost completely eaten away.
Much of the concrete that formed the body of the sump had dissolved, exposing hard-core in several places.
There was standing water on the floor of the sump.
In some areas, the severity of the attack was so severe, that we found cavities in the wall in excess of 75mm deep.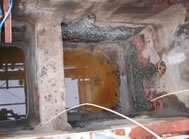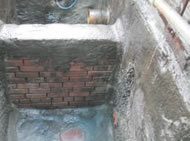 The extent of Chemical Attack
---
Solution
The sump was high-pressure jet washed and grit blasted using a medium-grade abrasive. This removed any contamination and cleaned the surfaces to the required standard.
The new lining system was applied using seven separate coating systems, including a moisture tolerant epoxy primer, an epoxy resin-based concrete repair render system, a water-based epoxy resin primer, three coats of a glass flake reinforced vinyl ester tank lining system and a final glass flake reinforced vinyl ester top coat. Each coat was applied in different colours to ensure correct wet film coverage. On completion, we tested the new lining for microporosity.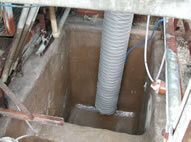 Following completion of our work
---
The Results
The advantage of using an epoxy-based concrete repair system was that the entire project could be completed in less than a week and the sump returned to active service immediately on completion. The sump with its new lining will now have an expected working life of in excess of fifteen years.