Military Training Facility
We were contacted with an interesting and very detailed project to be carried out for a Ministry of Defence Training Establishment.
The Client
The project involved the creation of a new training area, simulating a ship-based environment. As a result, certain parts of the project had to be completed using the same materials that would be used on board a ship. The project area was split over two "decks" and required some very detailed and precise anti-slip and demarcation areas.
The two levels were made up of different substrates, the lower level being concrete with steel checker plate conduit covers running throughout, and the upper level being solely steel checker plate.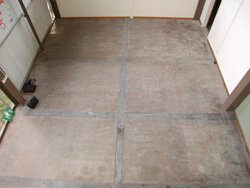 The images above are Before & After Treatment
For the lower level, the client decided on our self-smoothing epoxy system for reasons of durability. The conduit was removed and treated separately while the self-smoothing system was being applied. Once cured, green walkways with an anti-slip finish were applied to the coated surface and bounded by yellow lines. A circular demarcation area made up of a very high profile anti-slip material was applied to the client's specification, bounded by a hazard marking line which was created using resin in alternate colours.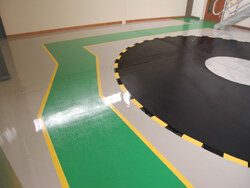 On the upper level, we applied a thickened paint coat of resin to the checker plate and allowed It to harden. Once cured we again added the bounded walkways, high profile anti-slip area and hazard markings. In addition, we applied the same high-profile anti-slip coating to a raised platform and adjoining steps.
Upon final inspection of the works complete the client was delighted with the precision achieved and the adherence to the specification and floor plan that they had provided, especially to the fact that we had used resin for creating the hazard markings rather than coloured tape!