Ocean Products, Seychelles: Food Process Plant Hygienic Coating
Ocean Products Seychelles Ltd instructed us to bring their entire Tuna Oil manufacturing facility up to EU/FDA Food Industry Standards.
The Client
The company operated from an insulated factory building within the main factory building. The facility was located in Victoria, Seychelles and although many global companies were able to supply the required materials, none were able to offer complete installation services and associated technical support.
We were able to fulfil this requirement and committed to completing the project during a two-week maintenance shutdown period.
---
Challenges
All areas of the building had extensive repair and maintenance problems.
Many of the steel-clad insulated wall panel sections had areas of corrosion and rust.
We were required to provide treatment for the internal shell of the building that was hygienic and easy to clean.
The laboratory required a new hygienic and easy-to-clean floor surface.
Areas of corrosion had occurred on the steel-clad insulation panels, which had to be treated.
The steel-clad insulated roof was leaking in several areas where panel joints met and through cable conduits.
The external temperatures reached 40°C, the internal operating temperature was 22°C and the roof working temperatures exceeded 50°C.
We were required to work in high levels of humidity.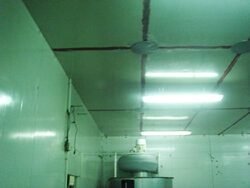 Pre-installation
---
Solution
This was an extensive project with work being carried out throughout the facility. To keep costs down for the client we utilised local labour on site and sent two resin coating specialists from the UK and together carried out the following works including Roof Panels.
We began by removing all traces of the silicone adhesive and aluminium-backed bitumen tape. The panels were cleaned and primed, whilst all accessible joints and voids were in-filled and sealed to create a smooth, seamless and waterproof joint with the properties of a 520% elongation to counteract any roof movement. Corrosion Areas
We manually clean areas of heavy rusting and severe corrosion before applying two coats of specialist rust converting zinc-based primer. Joints and voids were filled as required. Internal Walls and CeilingsInternal wall and ceiling panel joints were filled with flexible resin. All walls were then coated with multiple applications of easy-to-clean, food-grade, solvent-free resin to provide a seamless hygienic finish throughout. Laboratory Walls and Window FramesFollowing a thorough cleaning of corroded areas and an application of rust converting resin primer, all window frame joints were sealed with a flexible resin filler.
We then applied multiple applications of an easy-to-clean, food-grade, solvent-free resin coating. Laboratory Floor. In conclusion after thorough cleaning and degreasing, the surfaces were abraded. We then applied an easy-to-clean, seamless, self-smoothing poured hygienic flooring resin.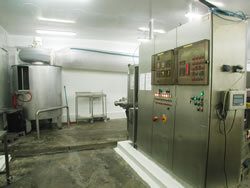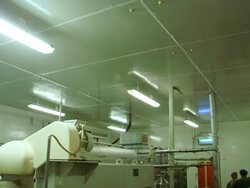 Post-installation
---
The Results
All products, materials, tools and equipment were sent directly to Seychelles and using UK specialists with local labour proved to be a cost-effective and a considerable saving for the client.
We completed the works within the allocated shutdown period and budget. Despite the tropical working temperatures and high humidity levels, the products achieved outstanding results and the client was extremely satisfied with the overall results.