Pet and Household care manafacturer
A leading pet and household care manufacturer located in the East of England
The Client
Contracted Specialist Coatings to refurbish and line an eight-year-old hot well tank that supplied the factory with hot water.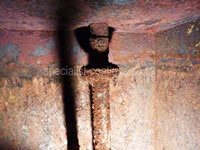 Hot well located above an industrial boiler
---
Challenges
The tank was leaking from several places.
The tank was severely corroded and had very deep pitting or cratering.
Due to its high temperature, the water seeping from the tank was potentially hazardous.
It was located in a small room, approximately 3m above a boiler.
As the boiler was operational throughout the project, the entrance temperature reached 40°C.
Numerous hot pipes were located near the manway entrance.
A complex array of internal steelwork made working conditions difficult.
An external plate at been welded to the underside of the tank in an attempt to stem the leaks.
Due to the tight positioning of the tank, replacing it would be costly and time-consuming.
Before Treatment
---
Solution
To repair and refurbish this hazardous and failing tank, we applied a special high-temperature tolerant epoxy tank lining system, suitable for use in confined spaces. The specialist low odour, solvent-free glass flake reinforced system was potable water and food contact approved.
The internal surfaces of the tank were extensively blast cleaned with abrasive grit to SA2.5 to remove rust, dust, scale and other deposits. Having cleaned the tank, a primer coat of high-temperature-resistant resin was applied and a total of seventeen holes and deep craters that were close to perforation were filled using a special resin-based surface repair system.
The floor of the tank was reinforced with a screed coating. A high temperature-resistant main coat was applied in multiple layers to ensure complete coverage. We rigorously tested the tank linings throughout each process for coating thickness and the absence of holes in the new lining.
After Treatment
---
The Results
By restoring the tank lining, we were able to bring the tank back into optimum production and extend its lifespan by ten to fifteen years, subject to regular inspections and general maintenance.
The project was completed on time as projected and the onsite engineer confirmed the expense of lining the existing tank cost 10% of the price of full tank replacement.