Redriff Primary School
Redriff Primary School in London wanted to replace the existing flooring in three of their classrooms.
The Client
They were looking for a colourful, safe, easy clean practical floor surface. Previously the classroom floors had been covered with a combination of lino and carpet. The carpeted surfaces were somewhat uninspiring and proved particularly difficult to keep clean, especially when being subjected to occasional spills of glue and paint.
The areas covered with lino in the Nursery class were not particularly interesting to look at, could be slippery when wet, and difficult to clean and we were told that the lino had at times proved to be a trip hazard when corners and edges had lifted.
For this project, we proposed a seamless epoxy-based self-levelling flooring system which could be supplied in almost any colour.
We were asked by the school if it would be possible to incorporate some designs on the floor of the Nursery class. We agreed that if the art department could make us some stencils this should be possible.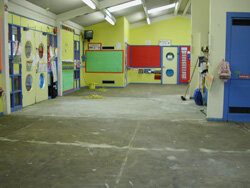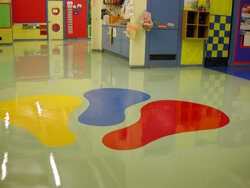 The images above are before and after treatment
After removing the existing floor coverings, we abraded and smoothed the floor with diamond floor grinders with cyclonic vacuum devices attached to minimise dust and after cleaning applied our resin-based floor coating systems.
The floor of the Nursery class was laid in a wonderful peppermint green colour. After the resin had hardened sufficiently, using the stencils that the school art department had made for us we made on the floor colourful footprints leading to the toilets (red & yellow), three huge balloons (red, blue & yellow), numbered blocks near a door leading to the playground, a group of coloured a,b,c blocks.
Special anti-slip treatments were applied to potentially wet areas adjacent to the entrance to the toilets and sinks located within the class. The work took three working days to complete and if required the treated surfaces could have been returned to normal use 24 hours following to completion of our works. The overall area treated was 217m2.
We would like to express our thanks to the headteacher and staff of Redriff Primary School for having the vision to create such an imaginative and colourful design for their classroom floors, which will surely delight children for many years to come and for what has proved to be a most interesting and enjoyable project for us.