Surrey Police Air Operations Unit
Surrey Police contacted us with a job that was all about timing.
The Client
They asked us if we could coat the floor of the hangar that housed the helicopter of their Air Operations Unit.
Our original brief was that the £3 million aircraft had to be returned to the hanger each night after we finished our day's work. The area to be treated was approximately 220m2.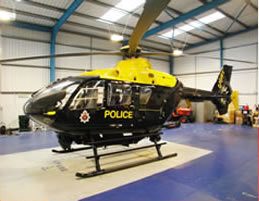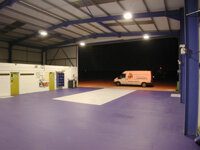 Because of the extremely limited time frame to complete the work we specified the use of an MMA (Methyl-Methacrylate) floor coating system. This ultra-fast curing material would allow us to coat the area within the time available and would even allow the Helicopter to be parked on the new surface and use the surface within two hours of the day's coating work being completed.
We used industrial diamond grinders to completely remove the old floor coating and to abrade the concrete underneath. On the second day, after a thorough clean with an industrial vacuum, we applied an MMA primer. Within an hour of finishing the primer coat, we were able to walk on the surface and apply the 2-3mm thick self-smoothing screed coat.
On the final day, after quality control checking, we applied an overall coloured sealer coat with anti-slip particles added in. Whilst applying the sealer coat we reinstated three demarcation areas. These included two fire extinguisher location points and the Helicopter resting place. As stated above, should it have been needed, the Helicopter could have been parked on the new surface two hours after each of the final coats was laid.