Hotel In The Scottish Borders: Sectional Fibreglass Water Tank Lining
Hotel in the Scottish Borders required our services to renovate their fibreglass sectional panel water tank.
The Client
The tank was constructed of fibreglass Braithwaite panels and each panel had a mastic jointing compound between the joints. Due to corrosion and a number of poor quality repairs, the tank would have been difficult to clean, unsuitable for inspection and subject to an eventual risk of leaking.
---
Challenges
A number of poor-quality repairs had been carried out on the tank over the years, with patches of fibreglass being added to the tank floor.
There was evidence of osmosis in some localised areas of the tank.
The tank posed a real threat of leaking.
---
Solution
We have successfully lined many fibreglass water tanks over the years in similar and worse conditions to this one. Following surface preparation and repairing the areas of osmosis within the tank, we applied a special flexible version of our water tank coating system to the joints and lined the whole tank.
After the new lining had hardened it was immediately ready for use.
After water tank lining treatment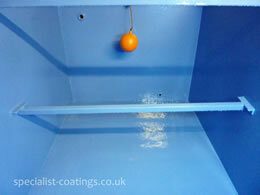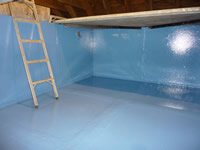 ---
The Results
The work carried out will extend the practical working life of the tank by an anticipated twenty-plus years. Our work was completed on time and on budget. Throughout our work, the hotel remained open and fully operational.