School Dining Hall: Fibreglass Braithwaite Panel Cold Water Storage Tank Coating
Having carried out a number of successful tank lining and refurbishment projects for a private school
The Client
In Northwest London, we were recommissioned to carry out repairs to a leaking water tank located above the school dining hall. The tank was constructed from fibreglass Braithwaite panels with standard butyl rubber-type joint seals. We were required to locate and prevent the leaks by relining the damaged tank.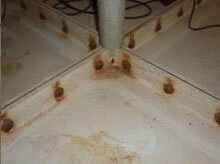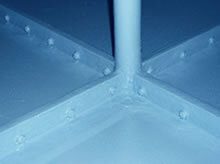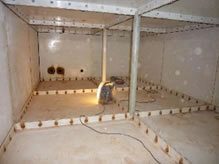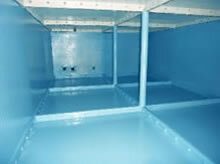 ---
Challenges
The water was beginning to leak through the tank in at least one location and it was possible that the jointing material used between the Braithwaite panels (joint seals) had started to perish.
With over 800 boys and staff to cater for three times a day during term time, it was critical that the work from our side was completed within four days during a brief shutdown period.
Upon arriving at the site, our team found that during its original installation, the tank had been constructed in such a way that all the floor panel bolted joints were facing inwards into the tank. This meant that all the bolts used in the construction of the floor were exposed to and in direct contact with the water.
A great many of the bolts on the floor of the tank had signs of corrosion and several of the washers had all but completely disintegrated.
There were approximately 320-floor section bolt parts that had to be treated individually.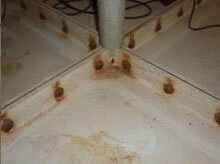 Detail of Bolts – Before Treatment
---
Solution
The repair of the joints in a Braithwaite panel tank – or any other section panel tank – is a relatively simple process using a specialised flexible joint repair material that our tank lining technical department devised for the internal sealing of joints in bolted sectional tanks and to prevent them from leaking.
For reasons of technical confidentiality, we cannot go into too much detail here about our flexible joint sealing system but it works very well indeed and has been used on some very diverse and interesting projects.
All the bolts were individually prepared. We began by removing the rust, the bolts were cleaned and then coated with our zinc-based anti-corrosion epoxy resin primer. The walls & floor were abraded and the whole tank was thoroughly cleaned to remove dust and debris. We applied our flexible joint sealing material to all the internal joints and every bolt, and then the whole tank was coated with two coats of our water tank coating system. Our water tank lining system is a solvent-free low odour epoxy resin-based system that has been designed for use in tanks and confined spaces for ease of use and without the need for special equipment.
---
The Results
Although there was a slight increase in cost in respect of treating the bolts, this was offset by the project being delivered on time and the school's problem of a leaking tank was solved. The new lining will provide a safe hygienic surface that will be easy to clean and provide many years of maintenance-free use.