Waterside Farm Sports Centre: Waterproof Coating
Waterside Farm Sports Centre on Canvey Island, Essex, was undergoing a major refurbishment.
The Client
We were instructed by Castle Point Borough Council to provide a short-term solution for the renovation of the internal surfaces of two swimming pools and the surrounding walkways.
---
Challenges
We had to coordinate our work with other contractors working on site.
Both pools required specialist anti-corrosion treatment before coating could commence.
The walkway needed repairing where an old flume had been removed.
The demarcation lines in the main pool required reinstating.
An anti-slip surface for the steps was required in the learners' pool.
According to our original brief, the Borough Council required a short-term solution.
During renovation works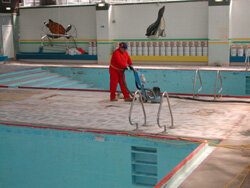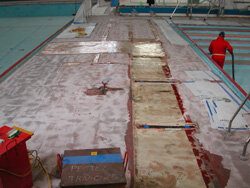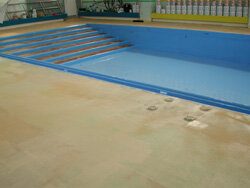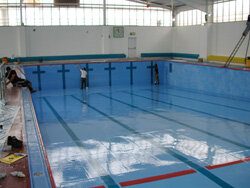 ---
Solution
This project was completed in phases in coordination with other contractors. Both swimming pools, the drainage channels and the walkway surfaces were prepared to create a suitable mechanical key. Both pools received a specialist anti-corrosion treatment before the coating could be applied.
Areas of both pools had corrosion points that had to be removed and infilled with a specialist zinc-based anti-corrosion primer and resin mortar. We also repaired large areas of the walkway, which were damaged following the removal of a flume. A specialist coat of resin was applied to the walkway to combat porosity and provide a "grip" surface on which people could walk safely. Once all the preparation work had been completed, we began coating the two pools. Anti-slip treatment was applied to the main steps of the learner pool and to the exit steps of both pools. Once cured, the lane marking lines were reinstated in contrasting colours. The main coating was then applied to the walkways and drainage channels, with the walkway having a light anti-slip finish.
Post refurbishment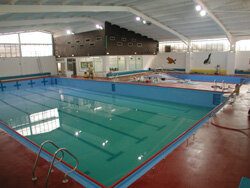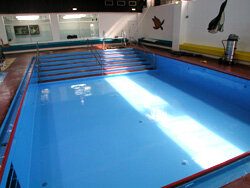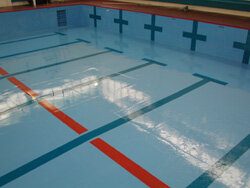 ---
The Results
The result of this project was very pleasing, as it out-lasted the minimum time period required in the original specification.