Savoy Hotel, Bournemouth – Potable Water Tank Lining
The Savoy Hotel in Bournemouth commissioned us to address a problem with the tanks being used to store and supply water to the hotel.
The Client
In total there were ten full-sized galvanised steel cold water tanks located within the attic void of the hotel.
---
Challenges
All the tanks were heavily corroded and required immediate attention.
With only a 15-inch clearance between the top of the tanks and the ceiling, working conditions were incredibly restrictive.
We had only six days to complete the entire project during a maintenance shutdown period.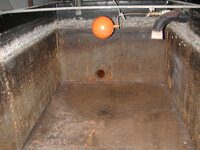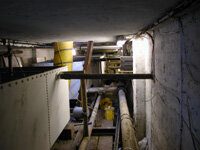 ---
Solution
Replacing the tanks would have been impractical due to the limited space available and could have involved the removal of the hotel roof. We were therefore instructed to reline the tanks with a potable water tank lining system, which was a far more cost-effective and efficient alternative to replacing the tanks.
We used a multi-coat tank lining system, which comprised a solvent-free epoxy resin glass-flake reinforced tank lining system. This material had been specially formulated for the lining of fresh or potable water tanks in situ. To minimise duct and noise pollution, we manually cleaned and abraded the internal surface of the tanks ready for the new lining. We removed any remaining dust and fine particles with an industrial vacuum cleaner. A specialised rust converting primer coat was then applied. Once prepared and primed, the deep craters were filled with a special epoxy resin void-filling paste. We then applied two coats of the glass-flake reinforced potable water tank lining material. Once the lining had cured, we tested it for dry film thickness and the absence of microporosity.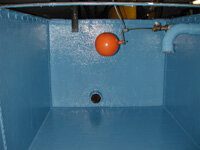 ---
The Results
We completed the refurbishment of all ten tanks within just four days. All the tanks were returned to normal service the following morning. The life expectancy of the newly lined cold water tanks is now in excess of twenty years.